Flybird Pro Weight Bench is the perfect workout tool for all fitness enthusiasts. It could be the most versatile and effective bench at the same time. Increase strength, build muscles and improve your overall fitness performance with this bench from Flybird.

Get a complete workout at home or at the gym with the Flybird Pro Weight Bench. The high quality construction offers heavy duty use and you'll be able to lift weights comfortably thanks to the reinforced back rest and incline adjustability.
Specs
Weight capacity: 1100 lbs
Height: 17.7″ tall
Backrest length: 34.25″ long
Seat length: 13.5″ long
Total length: 49.5″ long
Backrest width: 12″ long at its widest point, 9.5″ at it's narrowest point
Padding: 2.5″ thick
Bench weight: 56 lbs
Unboxing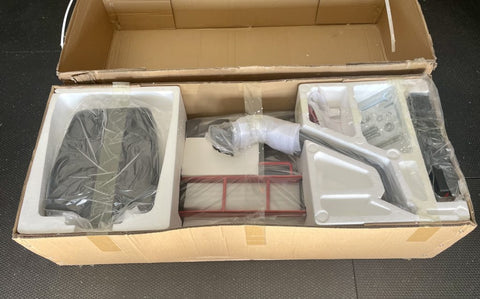 The contents of the box are perfectly packaged. Everything is protected by styrofoam and covered in plastic. Then taped in placed to the box so it won't move around.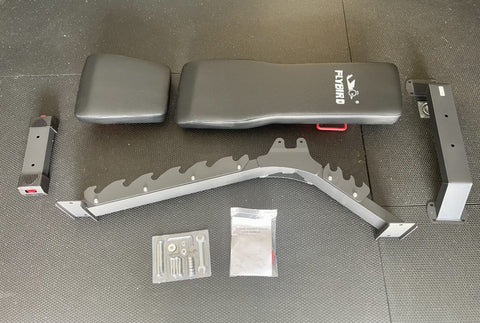 Package items including: 
Bench Seat
Back Support
Frame
Two Frame Legs
Tools Needed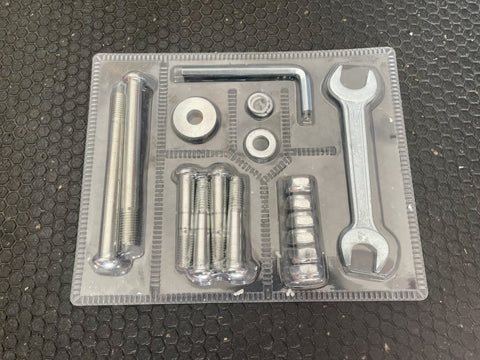 All the hardware, an Allen key, and a wrench are included.
 Assembly
The instructions are easy to follow, and the tools included will make it easier for you to assemble this weight bench. It will take around 10 minutes to assemble the bench using the tools provided.
 Adjustable Positions
Flybird Pro bench backrest can be adjusted to 6 positions and the seat adjusts to 3 positions. This allows you to work out in a variety of different positions, targeting different muscles groups. 
There's a red support arm that can be adjusted up and down six different notches to change the backrest's angle.
A handle on the support arm prevents your fingers from being pinched as you adjust the bench.
Above you can see how the support arm looks from the back of the bench.
The seat also has a support arm similar to the back rest that lets you adjust the seat to 3 positions.
You can adjust the seat from a flat position to two incline angles.
It's designed with a slight decline angle, which makes it perfect for incline presses.
It has 9 total adjustment levels, which means that it covers the full range of exercises you might want to do with a bench.
Stability
The bench feels very stable and doesn't wobble.

The back legs have a red colored rubber on the bottom to keep them from slipping.
In case of uneven floors, the front legs have rubberized feet that can be leveled.
There is a red dial on each front leg that raises and lowers the leg.
You can leave the leg completely flat if your floors are level.
If your floor is uneven, you can turn the dial and you'll see a piece of rubber come down from the leg.
Here you can see how the rubber piece helps balance out the leg.

The other side of the front leg can be done in the same way.
When the bench is set on a level surface, it feels very stable with no wobble.
Padding
It has a 2.5" thick padding, making it extremely comfortable.
Stitching is very clean, and the upholstery is tightly attached.
The padding measures 12 inches wide at its widest point.

The backrest tapers down to 9.5 inches at its top.
Mobility
With the Flybird Pro bench weighing just 56 lbs, it's easy to pick up and move anywhere.
Welds
Both welds on the front and back leg of the bench are decent.
Features
9 adjustment options
Very stable without wobble
Comfortable and supportive 2.5″ thick padding
Heavy duty frame
Front foot leveling option for uneven floors
Warranty
Flybird offers a 2 year warranty on the frame and 1 year on the pads.
Overall Review
The Flybird Pro bench is a very sturdy, well made bench that offers a lot of adjustability.

Overall the Flybird Pro adjustable bench feels very solid. The padding is very comfortable and supportive. It has 6 levels of backrest adjustment and 3 seat adjustments And it's very stable with a solid frame so there's no wobble. I'd say this is Flybird's best bench yet. When used in conjunction with the adjustable dumbbells, this set can really be a versatile training solution.