Regular price
$228.88
Sale price
$168.88
Unit price
per
save 26%
Sold out
As part of our eco-friendly effort, we coat the gripping bars with ABS (Acrylonitrile Butadiene Styrene).
Characteristics of ABS:
Durable
Structurally stable
Resistant to corrosion, impact, chemicals, and wear
Non-toxic and safe to use
Fully recyclable
Using dumbbells is the perfect way to build muscle and burn fat fast.
Dumbbells, kettlebells, barbells, and push-up stands are included in a Flybird Adjustable Dumbbell Set. If you are still struggling to choose between dumbbells or barbells, with this multifunctional set, all your problems are solved. 
Flybird Adjustable Dumbbell Set is easy to use and it has several combinations that you can use depending on the workout you want. They don't take up that much space and can be easily stored.
Product Specification
Weights Options: 50lbs/70lb/90lb
Product Dimensions: 22.8"L x 12"W(50lb); 24"L x 12.2"W(70lb); 22.45"L x 12.6"W(90lb)
Handle Diameter: 1"
Barbell Length: 22.7"
Handle Material: Alloy Steel
Package Dimension: 23.2"(L) x 12.3"(W) 

x 8"(H)
Shipping & Returns

-All orders will be processed and shipped from our warehouses within 24 hrs and deliever in 3-7 business days.

-Gym equipment is very heavy and hard to ship and we've made it easy and safe through our exclusive partnerships.

-We always strive to provide the highest quality product before it leaves our warehouse. While it is uncommom, your item arrives damaged for whatever reason, we are happy to handle returns and exchanges free of charge.
1 Year-Warranty

All of our quality products are backed by our free 1 year warranty. If your item breaks during that period, we'll repair or replace it, free of charge. If your item breaks after that period, we'll send you a replacement part or repair it at cost, with no mark up.
View full details
Flybird Adjustable Dumbbell Set
|
Regular price
$228.88
Sale price
$168.88
Unit price
per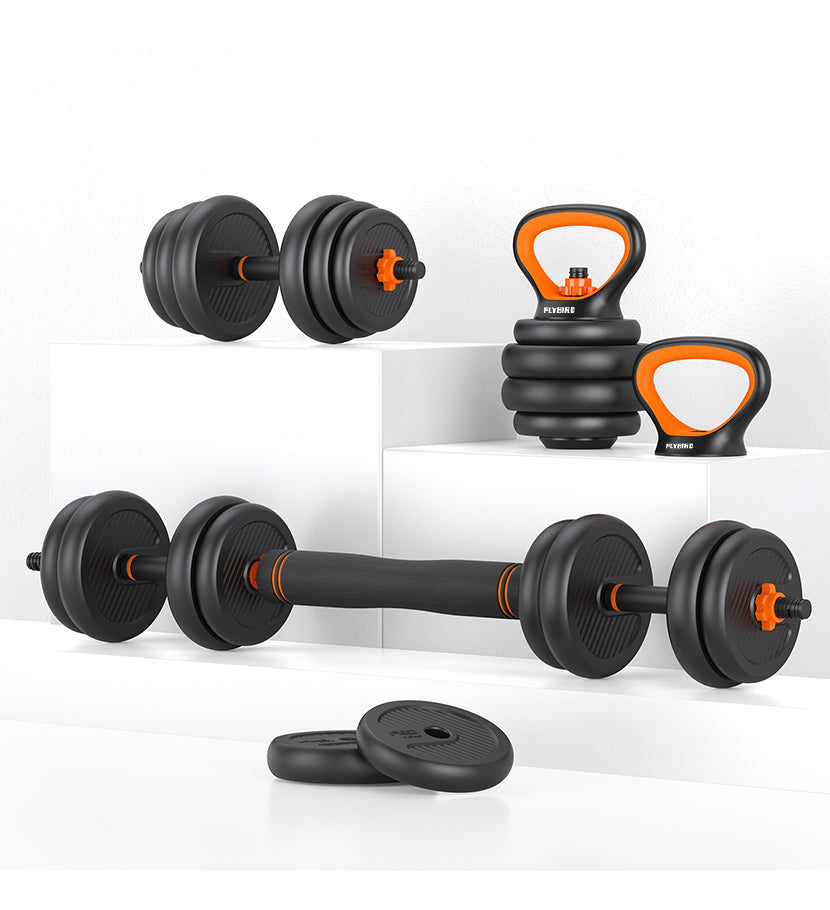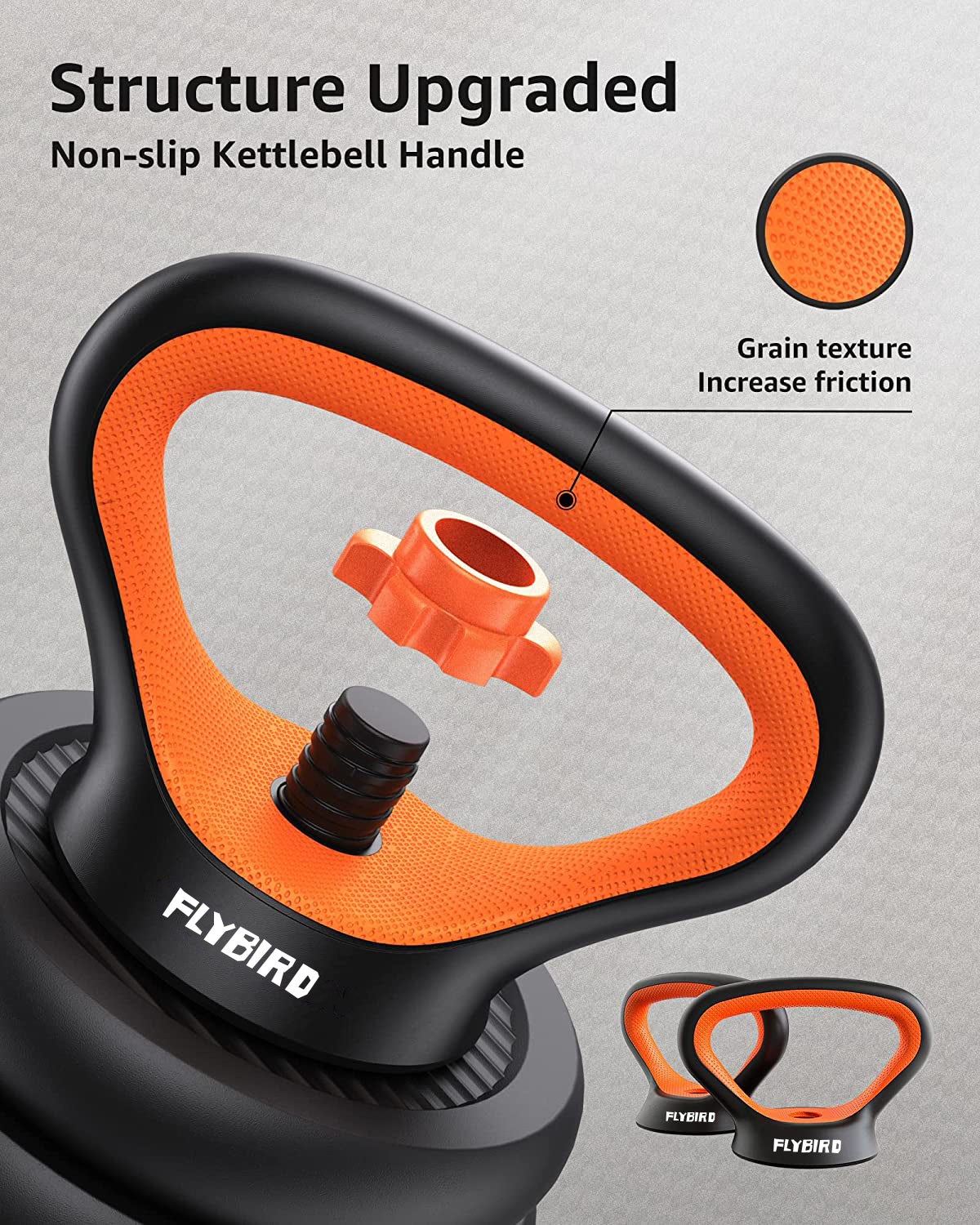 4 in 1 Multifunctional Dumbbell Set
Flybird Adjustable Dumbbell Set comes with dumbbells, barbells, kettlebells, and push-up stands, which allow you to perform bench presses, squats, and more.
Removable Dumbbell Pieces
The dumbbell pieces adopt a detachable design, with a total weight of 50lbs, 70lb, 90lb. Meet the exercise needs of all types of people at all stages.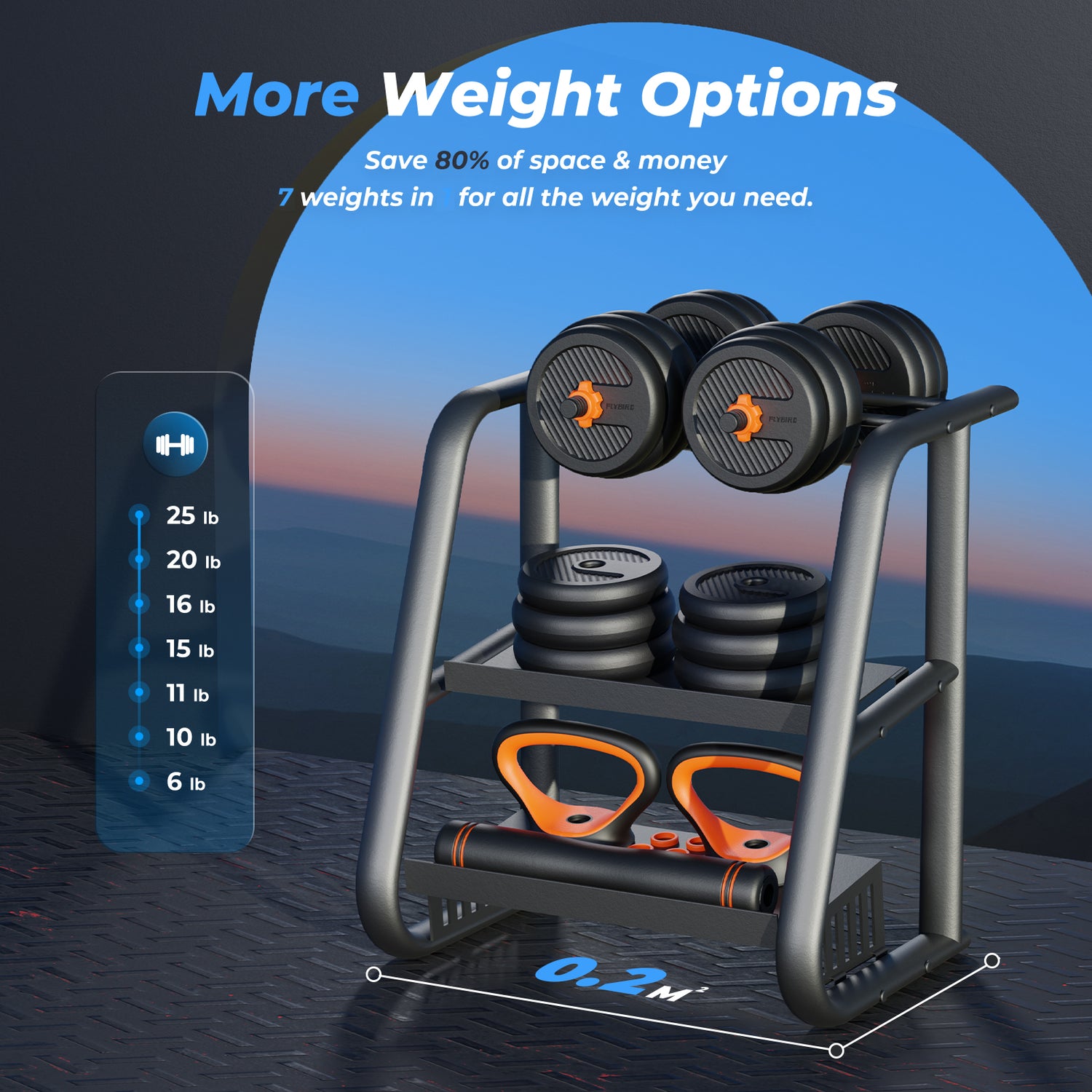 Space Saving
Are you still worried about not having enough space to store different weights of dumbbells?
Now, only need a place less than one square meter, FLYBIRD multifunctional dumbbell help you to build your own fitness world!
This dumbbells set requires less than 0.2 ㎡. The detachable design also saves storage space, you needn't buy a whole rack of dumbbells.
Durable Materials
This environmentally friendly dumbbell piece is constructed with high-quality PE materials on the outside and iron, mud, and sand on the inside, which effectively prevent floors from getting scratched.