A question about the Flybird weight bench's height can be found in other reviews, so if you've read them elsewhere, then you'll know why. Some customers say our weight bench is so high that they can't touch the ground while exercising. However, others say our weight bench is so low that they have to exercise with their heads outside the backrest in an awkward position. Why do people make such comments? We received a number of orders directly from our customers because they did not carefully check the description of the weight bench's height. Maybe they heard that the Flybird weight bench is of superior quality and at an affordable price. Therefore, they just ordered it without realizing that we have several models to choose from, and people with different heights should choose different ones.
Flybird Adjustable Weight Bench FB149 - This bench is good, but too high for me.
Our FB149 weight bench is very popular, but some customers report that the height is too high, 21 inches is not enough for them. For people around 6'2'' in height, our initial design of the FB149 dumbbell bench is more suitable, whereas the FB139 dumbbell bench is designed for people around 5'8'' height. Please check the dumbbell bench parameters carefully before choosing the Flybird weight bench. Check out all of our weight bench models on our compare all weight bench models page and make a comparison of them to choose the right one for you.
We lowered the height of our FB149 weight bench to 18.8 inches in 2022 to reduce customer complaints, so if you see a product review saying that our weight bench is too tall, please don't worry, that review is of our old bench and does not apply to our current one.
FB139 Adjustable Weight Bench - A little low for my height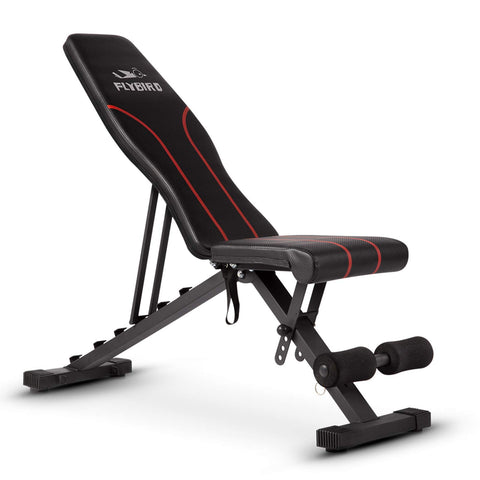 I'm 6'2 ''and I'm looking at the FB139 Adjustable Weight Bench. My question is, will it be too low for me?

The answer is yes. You should consider getting FB149 weight bench that fit your height. The reason I say this is because when you're lifting weights, you want to make sure that your body is as close to being aligned with the ground as possible. In other words, if you were standing up on top of a table or something, your feet should be touching the ground while your butt remains up in the air. This allows you to maintain proper form while lifting weight and prevent injury. If your weight bench doesn't allow for this, then it's not worth buying!

If you aren't interested in an adjustable weight bench, then look for one flat weight bench that's at least lower than what you're currently using (or have seen). This way, when you lie down on your back on the bench, your head will be closer to being aligned with the ground than if it were higher up like in your current setup.
We think Flybird weight bench would be perfect for those who are looking for a quality piece of equipment that won't break the bank, and provides a lot of value for what you get. It's built to last, easy to use and is adjustable enough to accommodate a variety of users. We especially like that it can be used as an incline or decline bench, as well as flat. The Flybird Weight Bench is also great for targeting specific muscle groups and comes with additional weights that can be added if more resistance is needed. If weight lifting is your thing and you want a professional experience in the comfort of your own home, the Flybird Adjustable Weight Bench may just be your perfect choice. Just choose the right one fit your height.

Also, Flybird have 25lb and 55lb adjustable dumbbells that will be your great workout pal. With the Flybird adjustable bench, you can also have a great muscle workout by yourself.