Regular price
$209.88
Sale price
$299.83
Unit price
per
save -43%
Sold out
5 pairs of dumbbells in the space of 1. Enjoy 80% space saving.
2. 1-Second Effortless Weight Switch
Simply twist the handle, and switch the weight between 5lb, 10lb, 15lb, 20lb, and 25lb.
3. Comfortable to Hold
The bar is coated with TPE, 
Thermoplastic Elastomer materials. They are durable and much more comfortable to hold than metal without compromising any gripping friction. You will feel the difference with heavy weights. TPE materials do not contain any toxins and are 100% safe for human health.
4. Hexagon Shape for More Stability
2023 upgraded version: with the weight plates upgraded to the hexagon shape, the dumbbell sits in the tray even more stably.
5. Safety Design Locks Plates in Place
The safety design of these dumbbells locks the weight plates in place, eliminating any worries about the plates dropping during exercise.
6. Premium Materials
The weight plates are made of premium carbon steel coated with high-quality nylon, durable and pleasing to the eye. The trays are made of 
Polypropylene. All these materials are odor-free and safe for human health.
Dimensions

Single Dumbbell: 15.7''L x 7.6'W' x 6.3''H
Shipping & Returns

-All orders will be processed and shipped from our warehouses within 48 hrs and deliever in 3-5 business days.

-Gym equipment is very heavy and hard to ship and we've made it easy and safe through our exclusive partnerships.

-We always strive to provide the highest quality product before it leaves our warehouse. While it is uncommom, your item arrives damaged for whatever reason, we are happy to handle returns and exchanges free of charge.
Carbon Steel Plates

Carbon Steel Plates Coated with Nylon. Odor-Free. No Toxins.
1 Year-Warranty

All of our quality products are backed by our free 1 year warranty. If your item breaks during that period, we'll repair or replace it, free of charge. If your item breaks after that period, we'll send you a replacement part or repair it at cost, with no mark up.
View full details
FLYBIRD Adjustable Dumbbells 25 LBS (2 pieces) (2023 New Version)
|
Regular price
$209.88
Sale price
$299.83
Unit price
per
Visual Weight Dial
FLYBIRD adjustable dumbbells are design with a concise and clear dial, which helps shorten the time for changing weights between sets during training.
There are 5 weight gears: 5 Ib, 10 Ib, 15 Ib, 20 Ib, and 25 Ib.
Safety Lock
The safety lock design makes sure the weights can only be adjusted on the tray.
During lifting, the buckle structure on the weight plates will lock the weight plate, ensuring that the plates do not fall off.
Space Saving
Are you still worried about not having enough space to store a whole lot of dumbbells?
Now, with the Flybird adjustable dumbbells, you don't even need more than 10 square foot.
The trays come with great tensile and compressive strength, more than enough to hold the dumbbells safely in a small space.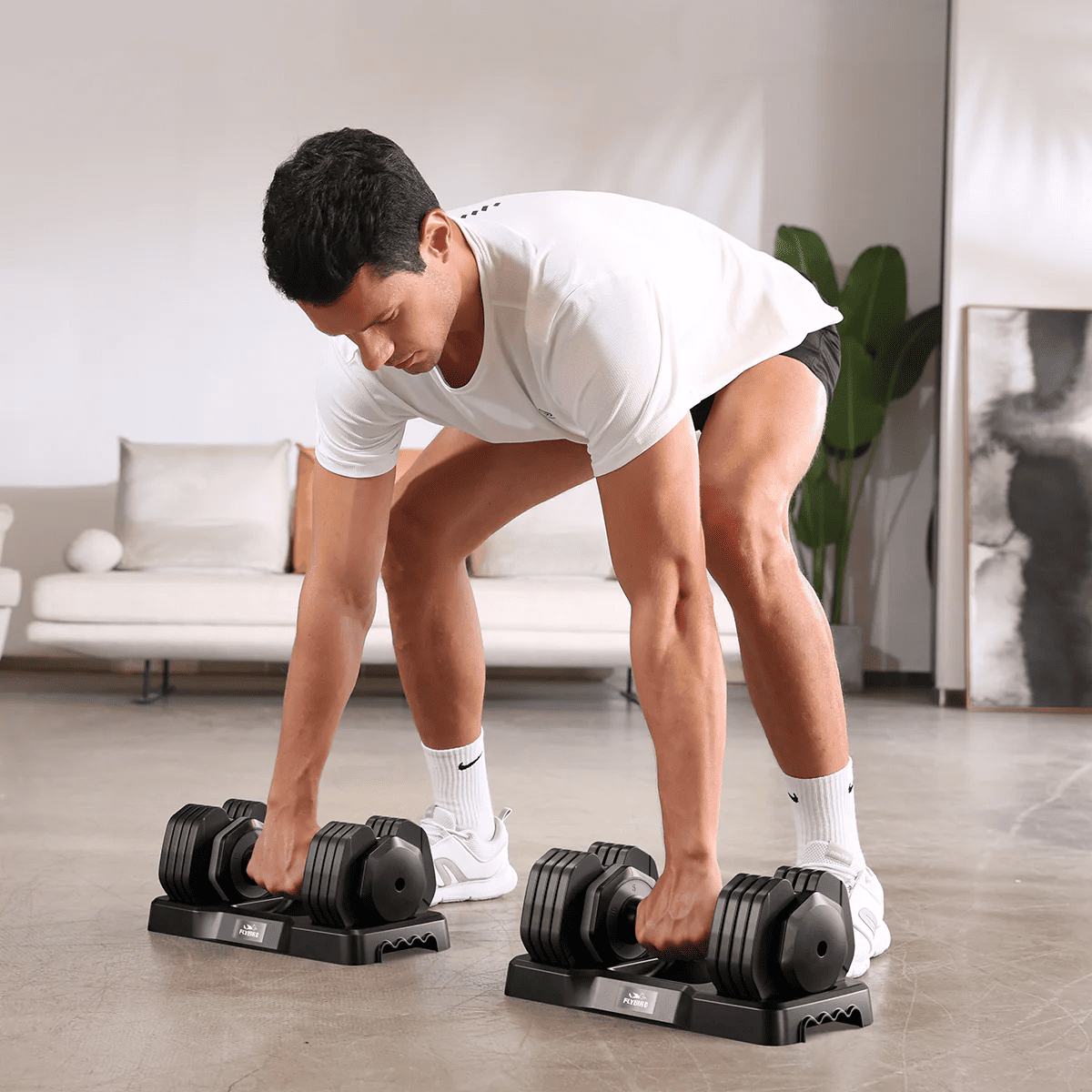 1-Second Weight Change
Single-handed weight switch, convenient for changing weights quickly in between sets during training. Just twist and go!