Are you looking for a healthy meal plan for the month of May? Whether you're trying to lose weight or just have a healthier lifestyle, here is a sample meal plan that can help you.

It's time for the Meal Plan For May! Get ready to have some recipes you'll use over and over again in your meal planning this month. As I go through my meal planning, I try to make sure that we have enough recipes to last us at least the entire month, or until we get bored of them – whichever comes first!
Spring Green Pizza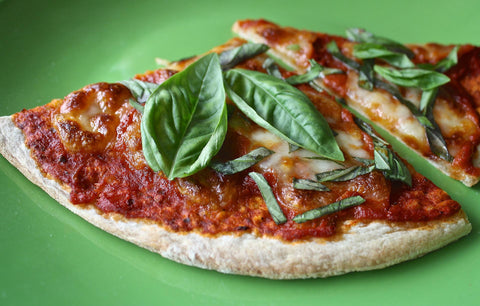 Ingredients:

-1 jar of pesto sauce (I like Newman's Own)

-1 package of pre-made pizza dough or homemade dough

-1/2 cup grated parmesan cheese

-6 oz. fresh mozzarella, sliced

-1 bunch of dinosaur kale, chopped (you can use other greens if desired)

Directions:

Preheat oven to 350 degrees F. Roll out the dough to about 1/4 inch thick and place on a lightly greased cookie sheet. Spread the pesto sauce over the crust, leaving about an inch around the edge free from sauce. Sprinkle the top with parmesan cheese and place sliced mozzarella on top of that. Bake for 15 minutes until cheese is melted and crust is golden brown. Remove from oven and top with chopped kale leaves just before serving.
Veggie Burger Wraps with Homemade BBQ Sauce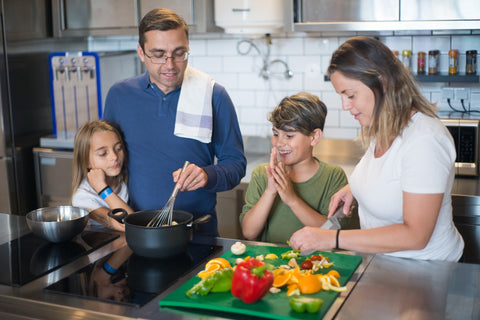 This month's meal plan is full of summery dishes. The weather is finally getting warmer, so why not make some veggie burgers, grilled shrimp and corn on the cob?

For dessert, try this classic chocolate chip cookie recipe. It's one of my favorite go-to desserts that requires no baking!

You can find all the recipes below. Happy cooking! Veggie Burger Wraps with Homemade BBQ Sauce

Ingredients:

2 cups cooked quinoa (about 1 cup uncooked)

2 tablespoons olive oil (or use coconut oil)

1/4 cup onion (minced)

1 teaspoon garlic powder

1 teaspoon paprika powder

1 teaspoon cumin powder

1/2 teaspoon turmeric powder
Bacon, Leek, & Feta Quiche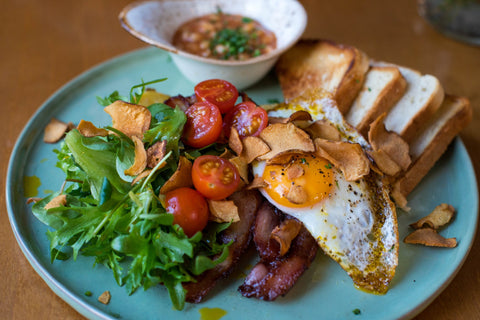 Ingredients:

1/2 cup finely chopped leeks (white and light green parts only)

3/4 teaspoon salt

1/4 teaspoon freshly ground black pepper

8 slices bacon (about 8 ounces)

1 cup grated Gruyère or Swiss cheese (4 ounces)

5 large eggs

1 1/2 cups half-and-half or whole milk
Risotto-Stuffed Tomatoes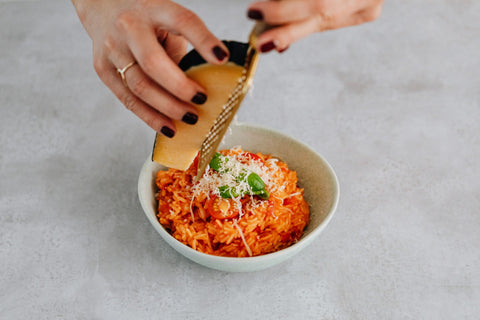 Ingredients:

4 large tomatoes

1 cup arborio rice (or other short-grain rice)

4 tablespoons butter, divided

24 fresh basil leaves, sliced into ribbons (chiffonade)

1/2 cup freshly grated Parmesan cheese, divided

Instructions:

Preheat oven to 350ºF. Halve the tomatoes lengthwise and scoop out their pulp; chop pulp finely. Place scooped-out tomato shells on a baking sheet and bake for 10 minutes. Meanwhile, bring 4 cups water to a boil in a medium saucepan; add the rice and cook until tender, about 20 minutes. Remove from heat; drain well and let cool slightly. Melt 2 tablespoons butter in large skillet over medium heat; add chopped tomato pulp and cook until tender; remove from heat and stir in basil ribbons and 1/2 cup Parmesan cheese, stirring until cheese melts. Spoon equal amounts of risotto into each tomato shell; drizzle with remaining 2 tablespoons butter and sprinkle with remaining 1/2 cup Parmesan cheese. Bake for 10 minutes or until bubbly around edges. Serves 4 as an entree or 8 as an appetizer.
Loaded Veggie Omelets

Ingredients:

2 tablespoons butter or oil, divided

1 small onion, chopped

1 zucchini, diced

1 red bell pepper, chopped

8 eggs

Salt and pepper to taste

2 tablespoons shredded cheese (optional)

Method:

Heat 1 tablespoon of butter in a skillet over medium heat. Add the onions and sauté until soft and translucent. Add the zucchini, bell pepper and remaining butter; cook until soft but still firm to the touch. Remove from heat and set aside. In a bowl, whisk together 8 eggs with salt and pepper until combined well. Pour into the same skillet used for cooking veggies; cook over medium heat until done on one side then flip to cook other side just until set but still moist inside (about 5 minutes). Top with veggies then sprinkle with cheese if desired before serving hot!
Meal Plan For May

Breakfast:

Breakfast Burritos (I make these on Sunday and have them to eat for breakfast all week)

Overnight Oats (I make these on Sunday and have them for breakfast all week)

Eggs, toast or pancakes and sausage patties (I make these on Sunday and have them to eat for breakfast all week)

Lunch:

Homemade Chicken Noodle Soup (This recipe makes enough soup for 2 meals. I've also used it as a base for other soups.)

Taco Salad (I make this on Sunday and have it to eat for lunch all week)

Chicken Enchiladas with Homemade Tortillas (These are my husband's favorite! They freeze well, too!)